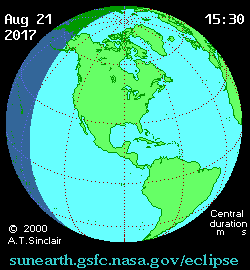 A total Solar Eclipse is coming your way...on August 21, 2017. Have you made your plans for this once-in-a-lifetime experience? Even though it's over a year away, this rare American celestial event will sweep the nation from the Pacific to the Atlantic. (Nearly everyone in the contiguous U.S.A. can reach this total solar eclipse within a one day's drive.)

On Friday, January 22, 2016, Jodi McCullough, President of the MVAS and eclipse-chaser will present "Chasing Eclipses: Getting Ready for 2017." Jodi and other MVAS members will share their recent total solar eclipse experience in Svalbard Norway, March 20, 2015. She will also give us pointers on how best to prepare for nature's phenomena in 2017.

This presentation is for everyone, not just astronomers!