Tuesday, June 5, 2012 at 5:00PM

Transit of Venus across the disk of the Sun!

The planet Venus, one planet inward toward the Sun
from the Earth, will be able to be seen moving across
the disk of the Sun. The last time a transit like this
was visible was on June 8, 2004 and the next time
will be December 11, 2117 - 105½ years from now!


Data below is for Akron, Ohio on Tuesday June 5, 2012

Event

Time

Altitude

Azimuth

First Contact:

6:04:30 pm (EDT)

29.7°
275.5°
Second Contact:

6:22:11 pm (EDT)

26.4°
278.2°
Sunset:

8:58:28 pm (EDT)

0°
302.2°
Due to the 8:13 ratio of the orbits of Earth and Venus (the Earth makes 8 orbits around the Sun in almost exactly the same time as Venus completes 13 orbits), coupled with the 3.39° inclination of Venus' orbit to the ecliptic, transits occur predictably, but with an odd cadence; always in pairs whose elements are separated by almost exactly 8 years and time between pairs alternating between 105½ years and 121½ years.

Chart of Venus transit dates & times
between 1527 a.d. and 2359 a.d.
.
Date (UT) of
transit center
Time (UT) of
transit center
Duration
of transit

.

Dec 7, 1631
05:21
3.4 hours
Dec 4, 1639
18:26
7.2 hours

.

Jun 6, 1761
05:19
6.8 hours
Jun 3, 1769
22:25
6.6 hours

.

Dec 9, 1874
04:07
5.0 hours
Dec 6, 1882
17:05
6.6 hours

.

Jun 8, 2004
08:20
6.4 hours

Jun 6, 2012

*

*

01:30

*

6.9

hours

.

Dec 11, 2117
02:52
5.9 hours
Dec 8, 2125
16:06
5.8 hours

.

Jun 11, 2247
11:42
6.0 hours
Jun 9, 2255
04:47
7.2 hours
As you can see, Venus transits don't happen often.
Let's hope for clear skies since we won't get another chance!


Venus transit

*


Image of the last Venus transit captured by member John Crilly at 6:56:32am EDT on 6/8/2004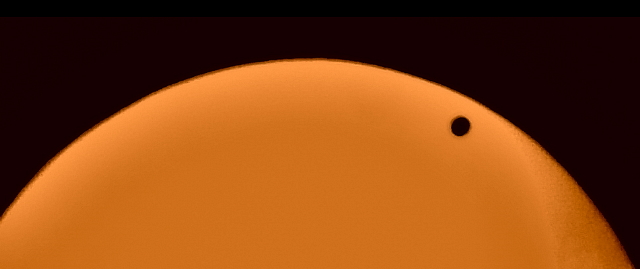 *Note: "Jun 6, 2012 at 1:30 am" is the UT designation for Jun 5, 2012 at 9:30pm EDT
All data calculated using Guide9 software available from www.ProjectPluto.com