SEND ROSES TO SOMEONE SPECIAL!

The Kiwanis Rose Remembrance Day Sale has begun!

How would you like One Dozen Long-Stemmed Boxed Roses like these
delivered anywhere in Summit County on Saturday 10/5/2019 For Only $15.00 ?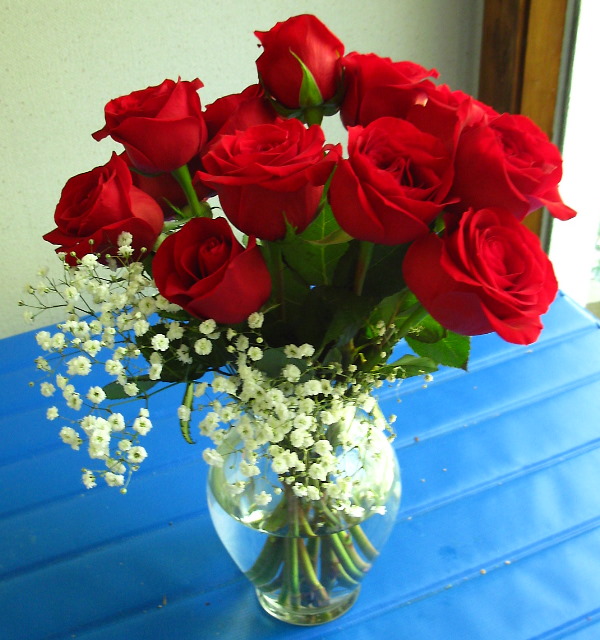 Photo above was taken by our Webmaster
Here's the deal: The ACA is granted use of the Portage Lakes Kiwanis Civic Center for our business meetings at absolutely no cost to us. We are extremely grateful and want to help the Kiwanis in their fund raising effort by purchasing roses online or by phone, as detailed in the information below. Roses are delivered anywhere in Summit County, but only in Summit County.
When ordering BE SURE to indicate your involvement with the ACA (ASTRONOMY CLUB of AKRON) so that they're aware of our team support. How do you do that?
*
If ordering by phone, simply tell them that the "Akron Astronomy Club" is the sales organization when you place your order.
*
If ordering online (it is very simple to do), at the very bottom of the last page of the process, there's a "SOLD BY" drop-down menu. Click on the down-arrow to the right of the "Sold By:" box and click on the "Akron Astronomy Club" as shown in this graphic: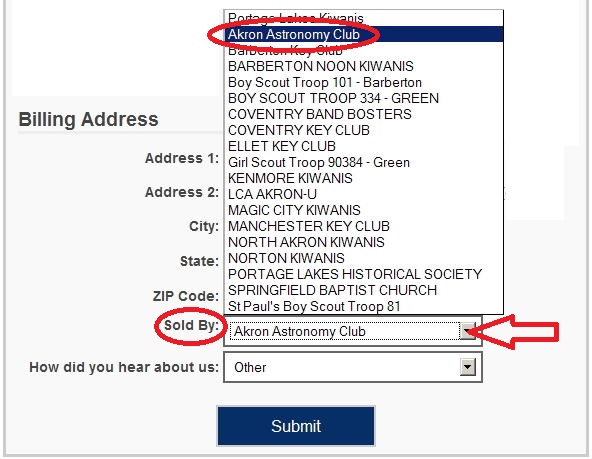 It's a win-win-win...the Kiwanis will receive the donation, the ACA will get credit for your purchase and you'll get a dozen gorgeous roses for that special someone. OK, now - go out there and purchase these beautiful roses!!!
Tell your family and friends and ask them to give the ACA credit, too. The more, the merrier!
---
----- Original Message -----
From: Portage Lakes Kiwanis
To: The Astronomy Club of Akron
Sent: Monday, August 28, 2017 6:00 PM
Subject: 61st Annual Kiwanis Rose Day Sale Begins!
SEND ROSES TO SOMEONE SPECIAL!
Portage Lakes Kiwanis is now taking orders for our 63rd Annual Kiwanis Rose Remembrance Day Sale.
ONE DOZEN LONG-STEMMED, BOXED ROSES
DELIVERED ANYWHERE IN SUMMIT COUNTY ON SATURDAY OCTOBER 5th, 2019
FOR A DONATION OF ONLY
.
$15.00 !!.

Order On-Line now: www.PLKiwanis.org (safe & secure)
WE SOLD OUT AGAIN LAST YEAR, SO ORDER EARLY!
Proceeds are returned to the community through Kiwanis non-profit programs and services.
Your donation of ONLY $15.00 will result in one dozen fresh, long-stemmed roses being delivered on Saturday, October 5th, 2019
right to the front door of someone special with NO ADDITIONAL COST FOR DELIVERY!
All connections to our website are completely secure for your ordering protection.
Thank you for your orders in previous years and we hope to serve you again this year.
For more information about Portage Lakes Kiwanis, visit
www.plkiwanis.org
QUANTITIES ARE LIMITED!

Portage Lakes Kiwanis 62nd Annual Rose Remembrance Day is Saturday October 5, 2019
Order by phone: 330.644.8967
Order online: www.PLKiwanis.org
(safe & secure)
Be part of a 59-year tradition and send someone you love roses! The proceeds enable Kiwanis clubs to fund scholarships and conduct youth programs throughout Summit county.
.